House Rejects Call for Afghan Withdrawal
March 11, 2010 - Associated Press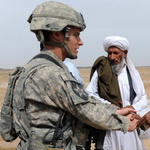 WASHINGTON - The House on Wednesday soundly rejected an effort by anti-war lawmakers to force a withdrawal of all U.S. troops from Afghanistan by the end of the year.
The outcome of the vote, 356-65 against the resolution, was never in doubt. But the 3 1/2 hours of debate did give those who oppose President Barack Obama's war policies a platform to vent their frustrations.
Opposing the resolution was easy for almost all Republicans, who have been solidly behind Obama's decision to increase U.S. troop strength in Afghanistan from 70,000 to 100,000. Only five Republicans supported the measure.
It was a harder vote for some Democrats, particularly in an election year where opposing the war can be equated with opposing the troops. Several expressed discomfort with a war that has lasted 8 1/2 years and cost the nation more than 930 American lives and the treasury more than $200 billion, but said they were voting against the resolution because it was ill-timed and unrealistic.
Among the 'no' voters was Rep. Patrick Kennedy, D-R.I., who gave an impassioned speech. The U.S. policy of needlessly sending troops into harm's way was "shameful," Kennedy said. He also lambasted the national media, calling their lack of attention to the loss of life in Afghanistan "despicable."
Rep. Dennis Kucinich, D-Ohio, authored the resolution that would have directed the president to remove all U.S. troops from Afghanistan within 30 days of its adoption. If the president deemed that deadline unsafe, he would have had until the end of the year to end U.S. military presence in the nation.
Obama has said he wants to begin withdrawing U.S. troops from Afghanistan starting in July 2011.
Kucinich based his resolution on the 1973 War Powers Act, passed during the Vietnam War era to require the president to obtain congressional approval when he sends troops to a conflict for more than 90 days.
Congress authorized the use of military force to fight terrorists in 2001, after the Sept. 11 attacks, but Kucinich said both the Bush and Obama administrations had wrongfully used that authority as carte blanche to circumvent the role of Congress in sending Americans to war.
"Unless this Congress acts to claim its constitutional responsibility, we will stay in Afghanistan for a very, very long time at great cost to our troops and to our national priorities," Kucinich said.
Republicans warned that a precipitous withdrawal would be a serious mistake, allowing the Taliban to regain power and assuring that al-Qaida and other terrorist groups would again have a staging ground to launch attacks against the U.S. and the West.
"In the case of Afghanistan, President Obama has demonstrated great responsibility and a sense of the national security interests of the United States," said Rep. Lincoln Diaz-Balart, R-Fla. "He deserves our support."
In the middle were Democrats such as Rep. Earl Blumenauer of Oregon, who voted against the resolution despite "profound reservations" about committing troops and vast resources to one of the world's most corrupt nations. He said the debate was essential, "even though I don't agree with the resolution that somehow we're going to be able to pull the plug and be able to end this in 30 days or 30 weeks."

© Copyright 2010 Associated Press. All rights reserved. This material may not be published, broadcast, rewritten or redistributed.
[ Original Article ]