Guardsmen Fight Floods in Three States
By Air Force Lt. Col. Ellen Krenke - National Guard Bureau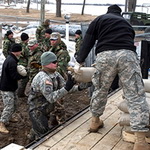 ARLINGTON, Va., March 29, 2010 – As North Dakota begins to draw down the number of National Guard members fighting floods, at least three other states are calling up personnel for the same mission.
In Massachusetts, Gov. Deval Patrick has placed about 50 soldiers and airmen on state active duty.
In a news conference yesterday, Patrick said the Guardsmen will provide support for flooding that may occur as another March "nor'easter" threatens to dump several inches of rain across the already-soaked state.
"[They] are eager to assist the citizens of the commonwealth," said Army Maj. Gen. Joseph C. Carter, the Massachusetts adjutant general. "The commonwealth can rely on our diverse capabilities, our strategically located units and our quick response during times of need."
The immediate tasks the Massachusetts Emergency Management Agency gave to the National Guard have been completed, according to a news release from the Massachusetts Guard. Soldiers worked throughout the night March 28 delivering 1,200 pre-filled emergency sandbags from Camp Edwards to Littleton and filled an additional 2,000 sandbags at the state highway department in Lexington.
The National Guard continues to fill, load and haul sandbags from Camp Edwards on Cape Cod, to Lexington and Littleton, awaiting further requests from MEMA, Guard officials said. The Massachusetts National Guard's 79th Troop Command, located in Rehoboth, is coordinating the movement of filled sandbags from Lexington to areas designated by MEMA.
Heavy rain is expected to fall over western portions of Connecticut, Massachusetts and southwest New Hampshire today.
Guard officials reported that Connecticut has provided a liaison officer to the state emergency operations center to monitor forecasted heavy rainfall and possible flooding. No report has come as yet from New Hampshire.
In South Dakota, two Army Guard members remain on duty after a peak of 60 over the weekend. They were responsible for conducting sandbagging operations. Guard officials said they may get other mission assignments from state emergency officials.
South Dakota is experiencing major flooding throughout the Red River Valley after heavy snowfall and rains in the last few months.
In North Dakota, about 70 soldiers and airmen also remain on duty in the Red River Valley area. At the peak, more than 700 Guardsmen were called up to fight floods throughout the state. In Fargo and Cass counties, dike-effectiveness patrols continue to monitor the water level, and quick response forces also provide immediate response to dike and levee breeches and seepage. The Emergency Management Assistance Compact with the Minnesota Guard has ended, and all Minnesota troops have been released by the state.
The remaining soldiers and airmen in North Dakota also will conduct reset and recovery of personnel and equipment.
[ Original Article ]