New training in Europe brings reality to virtual worlds
By Christian Marquardt, 7th Army Joint Multinational Training Command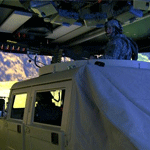 GRAFENWOEHR, Germany -- Training Support Activity Europe (TSAE) has fielded the Army's newest virtual training device and it is open for business to U.S. Army Europe Soldiers at the Grafenwoehr Training Area.
The Reconfigurable Vehicle Tactical Trainer, or RVTT, officially opened during a ribbon-cutting ceremony on the training area's Camp Aachen, Feb. 18.
The RVTT is unlike traditional computer simulators or engagement skills trainers because it surrounds Soldiers in a realistic, 360-degree virtual world, said David W. Darnall, Soldier Program Manager for the 7th Army Joint Multinational Training Command (JMTC).
"In any other computer simulations you're constrained by a 14, 18 or 19-inch monitor that you view your world through," said Darnall.
"All of the RVTT simulators that we have are 360 degrees," said Darnall. "There's no such thing as moving your mouse to glance right. In here, you glance right and you see the terrain moving. It becomes much more immersive."
The RVTT system consists of a series of trailers equipped with four life-size replica HMMWVs surrounded by floor-to-ceiling movie screens, said Darnall. These HMMWV simulators contain everything you would find in a real HMMWV, to include secure radios, individual and crew-served weapons, and current command and control systems. Soldiers familiar with their equipment require only moments to be fully operational in the simulator. A third trailer provides command and control and full AAR capabilities.
The system can accommodate a whole platoon training simultaneously on the same mission, said Darnall.
"The last (simulator) we did was not this advanced," said Spec. Selah Hadi, who went through the RVTT as part of the JMTC's Theater Specific Individual Readiness Training (TSIRT) course.
"This was more realistic, fun, I mean. I always enjoy doing stuff like this," said Hadi.
The RVTT simulators can save commanders immense time, particularly when the unit is conducting complex training missions, said Darnall. The RVTT is equally capable of helping units train basic drills and tasks or enabling well-trained units to conduct more complex and demanding training, some of which would be impossible to replicate in a live training environment.
Each RVTT scenario is fully-customizable by the training unit, said Darnall. Currently, the RVTT has access to eight terrain databases, which include northern California, the National Training Center, and the ranges and training sites of the JMTC's Grafenwoehr and Hohenfels Training Areas.
Even though it looks like a giant arcade game, the Army has made all the scenarios and the simulator equipment as realistic as possible, said Darnall.
"You're going to have the same rate of acceleration in (RVTT's) HMMWV. You're going to have the same rate of fire on that weapon as you would in real life," said Darnall. "You have to do the things you would normally do to be successful."
In addition to RVTT, the JMTC's Virtual Device Training Facility(VDTF) will eventually also incorporate the current armored vehicle simulators (Mobile Close Combat Tactical Trainers) and the Virtual Battle Space 2 desktop mission simulators with the future Dismounted Soldier Virtual Trainer, a system that will allow up to 12 Soldiers to physically maneuver through a three-dimensional virtual world with the use of goggles and body sensors, said Darnall.
When it's fully operational, the VDTF will be able to simultaneously train up to a battalion of soldiers in one location on virtual missions, said Darnall.
"Right now we don't have the capability to plug everything together," said Darnall. "When we get the other simulators that are coming in, they will arrive being able to be plugged into each other."
"Beyond that, the only limitation is what the unit commander's imagination is," said Darnall.
JMTC's Training Support Activity Europe (TSAE) identifies, acquires, manages, and sustains training resources to support all echelons of training throughout Europe. TSAE is geographically dispersed throughout Europe at Regional and Training Support Centers in 18 cities and six countries.
[ Original Article ]